Five Question Friday is sponsored by
Mama M
!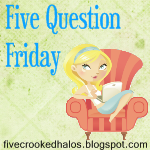 This week's questions are...
1. What is your favorite "eat" on Thanksgiving?
Brown gravy. I lived in Tulsa which is mid-west but a lot like the south, because they eat white gravy. I'm Canadian. I love my brown gravy. And dark meat turkey.
2. What is the name your best girl friend and the best trait about her or how you met? (Or heck, both!!)
Normie. Actually, it's Norma Ann. Not Norma. Not Ann. Norma Ann. 2 words.
We met in grade 8 over an art table. Normie is wonderfully creative and a great artist. I am not. We called her NAM back then. It's NAMK now. NAMK is a really sweet mom. When we were in high school, Normie had the most freedom to do whatever she wanted. I was amazed at how she never took advantage of that freedom.
3. What would you say is one of your "weirdest" quirks?

I'm not a quirky person. I have no quirks. Weird or normal.


4. What is your favorite genre of music? (Hip hop? Classical? Rock? etc.)

Adult Contemporary. Oh my God. I can't believe I just admitted that to the world.


5. Are you a Night Owl...or an Early Bird?

I'm sporadic. If I get a shower, I can be efficient in the morning. If I get going, I can do amazing work in the evening and into the late night.